KELLY SELECTED FOR ELITE PROTECTION ATHLETE TEAM
By: PBRA Tuesday, July 10, 2018 @ 2:22 PM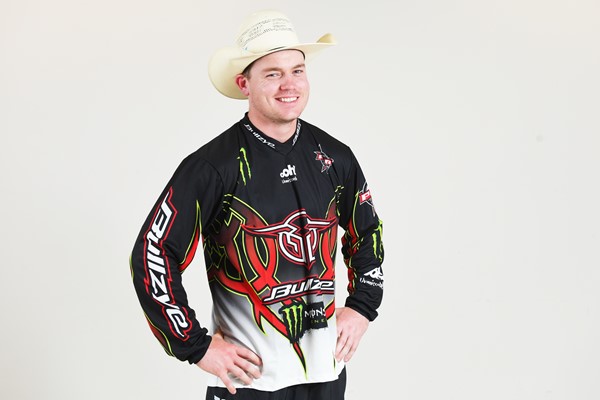 In the world of PBR bull riding, the stars of the event are the riders and the bulls. The unsung heroes are however the Protection Athletes.  The guys who step out into the arena and are willing to put their life on the line each and every time a bull bucks out.  Their job is to protect the rider – to distract the bull so the rider can safely get back to the chutes once he has completed his ride or has been bucked off. That more often than not means stepping in between the bull and rider and taking a direct hit – That's their job.
One of the very best in the business is Gracemere's Clint Kelly.  The quietly spoken 25 year old doesn't say too much – he lets his actions speak for him – and it speaks volumes.  Kelly was recently selected as a member of the PBR's Bullzye Protection Athlete Team. The three member team which includes Mitch Russell (Melville NSW) and Geoff Hall (Aberdeen NSW) will work each of PBR Monster Energy Tour events across the country from Cairns, Brisbane, Sydney, Melbourne and Adelaide.
What does it take to be a great Protection Athlete?  Many would say that these men are just a little crazy but the truth of the matter is they are fit, athletic, possess "just a little" more cattle savvy than most and have impeccable timing.  To find a team of guys that work well together is imperative – Not only for the riders safety but also their own. One misjudged move, and in just a blink of an eye it can and will result in serious injury.
Fellow Protection Athlete Team member Mitch Russell praised the youngest team member – "he is a pretty casual character, doesn't get in a fluster and you just know he has your back" commented Russell. "And as tough as hell" he added with a chuckle.
For stock contractors it is also important to have a good team out in the arena. Contractors want their bulls to do their job and once that eight second whistle blows, for their charges to exit the arena as quickly as possible with no fuss.
Highly respected Duaringa stock contractor Trevor Dunne was also full of praise for Kelly "Very deserving, very competent – He just takes care of business" he recently commented.
One thing for certain Clint Kelly has earnt his position on the PBR Bullzye Protection Athlete Team. We all will be looking forward to watching him walk into the arena and stepping around at upcoming events PBR Monster Energy Tour events.  Look out for Clint at upcoming events Mackay 8 September and Rockhampton 22 September, tickets now on sale.