PBR AUSTRALIA ANNOUNCES NEW TOUR STOPS AND STATE-OF-THE ART MOBILE STADIUM
By: PBRAdmin Tuesday, January 23, 2018 @ 10:58 AM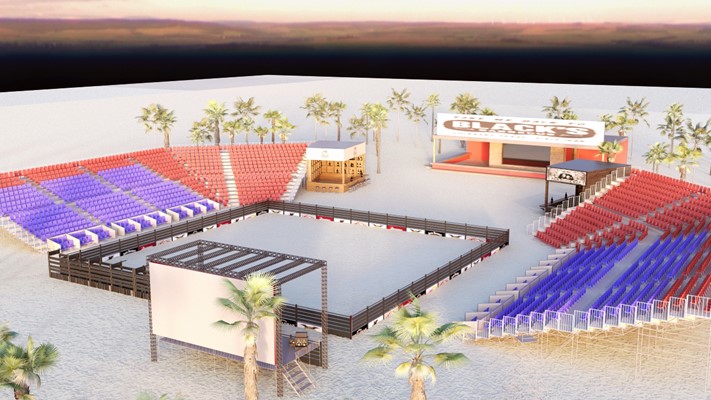 The 2018 Professional Bull Riders (PBR) Australia tour is saddling up for one of its biggest years in history, with a fresh calendar of live events, record prize money, a 25th global anniversary and a new world-first, purpose-built mobile stadium set to bring fans closer to the action than ever before.
"We will be the first PBR tour globally to have the new purpose-built stadium that has been in development since 2010," said Glen Young, PBR Australia General Manager. 
"It will give spectators the ultimate PBR experience and view of elite bull-riding action. Until this year, we had toured primarily in QLD and NSW – however, 2018 will see us bring this old, yet modernised sporting tradition to new territories and towns across Australia."
The new stadium will tour from March to October, visiting eight stops across Victoria, NSW and QLD, with plans to grow to 12 tour stops in 2019.  
All of the regional tour legs in 2018 will feature the new stadium, with Bendigo (VIC), Shepparton (VIC) Wodonga (VIC), Beaudesert (QLD), Mount Cotton (QLD), Mackay (QLD), Rockhampton (QLD) and Dubbo (NSW) all representing new additions to the tour. 
Kicking off in Bendigo on March 3, the tour expands into regional Victoria for the first time following sell-out shows in NSW and QLD.
"Our Bendigo event comes off the back of five years of fan requests for a PBR event in the area – and not only are we delivering that, but we're also giving Bendigo locals the opportunity to christen our brand new stadium," added Glen Young.
"We have made a huge investment in the stadium, so that we can consistently deliver a top-notch standard of production and attendee experience – no matter what state or city we visit.
"It's important for us to ensure that a PBR fan in Darwin receives the same experience as a PBR fan in Bendigo."
In line with the rapid growth of the sport domestically and abroad, the 2018 PBR Australia Tour will also offer up an Australian record $1.1 million prize-purse – rising from $250,000 in 2017.
The new stadium will launch with a 3,500-capacity, which includes seating for 2,500 and 18 arena-side corporate boxes. The seating is expected to reach a capacity of up to 6,500 by 2020.
The stadium features a custom-built mega screen to take the audience behind-the-scenes – inside the bucking chutes – and to give slow motion replays for each ride.
It will also provide a rock concert backdrop, with Australian country music star Casey Barnes confirmed as the headline act for every leg of the tour. 
"The new stadium will allow us to revolutionise this extreme sport into a touring outback spectacular, with a full theatrical production offering an action-packed night of pro bull-riding, combined with a social after-party event featuring live performances by the very talented Casey Barnes," said Glen Young.
"These won't be one-off tour stops; we are making a long-term commitment to deliver high-caliber events that will also have a positive impact on the local economies of each region we're touring to. 
"On average, close to half of the attendees at these events will come from areas up to 400km away, and most of our fans will attend more than one event each year. We will not only deliver the best match-ups between cowboy and bull athletes, but we will also offer up great live music and entertainment."
As part of its commitment to delivering one of the most unique live event touring experiences in the country, PBR Australia is also working with food suppliers nationally to deliver exceptional local food offerings in each event location, with food trucks set to serve US BBQ foods as well as hot dogs, burgers, Tex Mex and South American foods.  
Tickets are on-sale now for the 2018 PBR tour at: www.pbraustralia.com.au