2018 Australia Champion Aaron Kleier Headlines National Standings Qualifiers for Team Australia at 2019 PBR Global
By: Justin Felisko Friday, December 21, 2018 @ 9:54 AM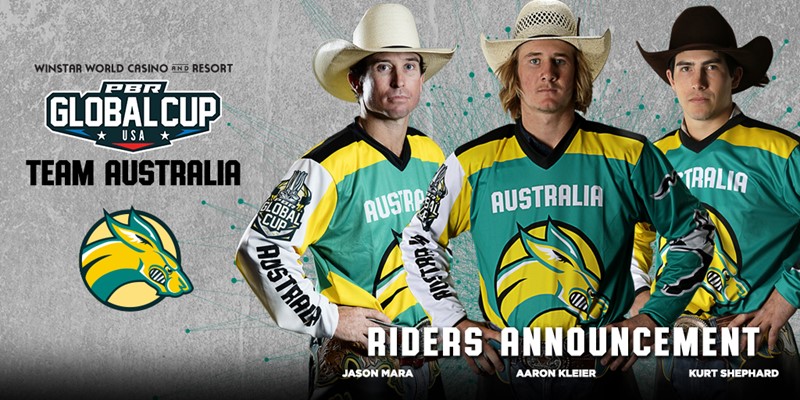 PUEBLO, Colo. – Ahead of PBR's (Professional Bull Riders) 2019 WinStar World Casino and Resort Global Cup USA, three riders have qualified for Team Australia via the country's national standings, headlined by 2018 PBR Australia Champion Aaron Kleier (Clermont, Queensland).
The PBR Global Cup, the only nation vs. nation bull riding competition, will make its U.S. debut, and third stop, at AT&T Stadium in Arlington, Texas on February 9-10, 2019.  The new team tournament debuted in Edmonton, Alberta, Canada in November 2017 and then visited Sydney, Australia in June 2018.
Also qualifying via the national standings are Jason Mara (Cloncurry, Queensland) and Kurt Shephard (Atherton, Queensland), all selected via their combined finish in the national standings via points earned at events between August's event in Newcastle, New South Wales through the most recent stop this December in Adelaide.
The trio of Kleier, Mara and Shephard join already announced teammates Lachlan Richardson (Gresford, New South Wales), Nathan Burtenshaw (Coonamble, New South Wales), Cliff Richardson (Gresford, New South Wales) and Cody Heffernan (Singleton, New South Wales) who were all chosen by 1998 PBR World Champion and Team Australia Coach Troy Dunn (Bloomsbury, Queensland).
One position remains to be filled on Team Australia by Coach Dunn, set to be announced in early January.
After finishing the 2017 season 50.83 points behind the nation's No.1 ranking, Kleier actualized his dream of becoming a PBR Australia Champion in 2018, dominating the season's competition and finishing the year 1125.82 points in front of No. 2 Cliff Richardson. 
His stellar campaign also included a PBR Australia-best 46 qualified rides in 80 attempts (57.6 percent). Kleier notably won six events and had 20 Top-5 finishes in his march to his first Australian title.
With the 2019 season already underway in Australia, Kleier remains the top-ranked rider in the nation after winning the Adelaide Invitational courtesy of his flawless 3-for-3 effort. The perfect outing also allowed Kleier to assume the No. 1 standing in the current 2019 PBR World Standings, leading Ezekiel Mitchell (Rockdale, Texas) by 40 points.
A dominant rider in Australian competition, Kleier also adds past Global Cup experience to the roster having competed for the nation at the event's previous two stops in Edmonton and Sydney.
In Canada, he went 1-for-2 to help the nation finish fourth, while he went 1-for-3 at the latest edition of the event where Australia was defeated by a slim 0.75 points by event winners Team Brazil.
Much like Kleier, Mara joins Team Australia after beginning the 2019 season on a winning note, victorious at the nation's first event of the new season, the Melbourne Invitational.
He is also a past member of Team Australia, riding for the nation at the most recent Global Cup event in Sydney, going 1-for-2.
World Finals Qualifier Shephard rounds out the trio of riders qualifying to Team Australia via the national standings, set to be the country's alternate.
In 2018 Australian competition he earned 7 Top-10 finishes, while his 2019 record already includes a fourth-place result on the Monster Energy Tour in Melbourne, Victoria.
The qualification to the contingent set to compete in Texas marks Shephard's return to the team after not competing in Sydney. As one of eight men that made the journey to the inaugural event in Edmonton, Shephard went 2-for-3 to help his country finish fourth when they competed on home soil.
Tickets for the WinStar World Casino and Resort Global Cup USA are on sale now and start at just $10. They can be purchased at SeatGeek.com, PBR.com, or by calling PBRDirect at (800)732-1727.