KLEIER AND RICHARDSON SPLIT NEWCASTLE HONOURS
By: PBRA Wednesday, August 15, 2018 @ 10:48 AM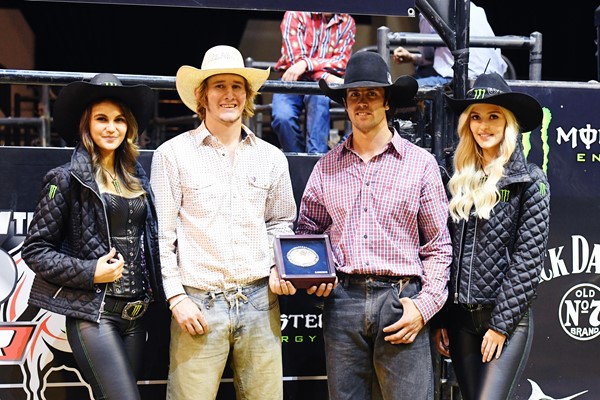 Clermont's favourite son, Aaron Kleier, maintains the number one spot on the PBR Australian standings following another successful night at the Monster Energy – Great Northern Newcastle Invitational last Saturday night.
Kleier and title contender Cliff Richardson battled it out and after three rounds of bull riding; the world ranked cowboys could not be split.
Richardson set the pace in the first round with the winning ride – 85.5 points on Street Wise (TNR Bucking Bulls), just one point in front of Townsville's Braydon Wellby on Buck (Yates). Next in line was Kleier on Redman, also from TNR Bucking bulls, with a score of 83 followed by the Cloncurry pocket rocket Jason Mara with 82 points on Kaspers Sweet Pro's Rhinoplasty.
Kleier hit back in round two marking an 86 on Hempenstall's good bull Maximum Rat, only half a point ahead of another cowboy with his eyes focused on the national title this year, Cody Heffernan aboard Silverback (Maynes).  Jason Mara kept the pressure on, he rode Twisted X (Maynes) marking an 84 ahead of two riders with scores of 83.5, Tully's Michael Smith and former champion, New Zealand's Fraser Babbington. Richardson was out of the round money but posted another qualified ride.
Into the championship round and five riders, currently ranked in Australia's top six, were ready to claim the win in front of the packed house in Newcastle.
Babbington drew Klabe's Jack Frost and came undone.  Mara was next and he gave everything he had on TNR's Call Me Joe to go close – 7.35 seconds but no score.  Incidentally, these two bulls also split the Highest Marked Bull of the Event bonus with 43.5 points.
Kleier had the crowd cheering and applauding when he made the eight on TNR's On Point to be rewarded with 86 points. Richardson followed up with a sweet ride for 86.5 points on Cookies and Cream (Klabe).  Last ride of the night and it was another local hero that had the crowd standing up – Cody Heffernan 87.5 points on Hempenstall's Red Rat.
Kleier and Richardson's aggregate score of 255 split the top honours in front of Cody Heffernan (173), Braydon Wellby (168.5) Jason Mara (166) and Mathew Bee (162).
Newcastle was another example that the 2018 PBR Australia title is going to be close – very close. 
As the PBRA Tour continues and includes upcoming stadium events at Mackay (8 September), Rockhampton (22 September) and Beaudesert (6 October), the battle is well and truly on and will be decided at the PBRA Grand Finals in Townsville November 23 and 24.