Kleier and Babbington Take Newcastle Cup Honours
By: Dianne Hallam Sunday, October 8, 2017 @ 11:31 AM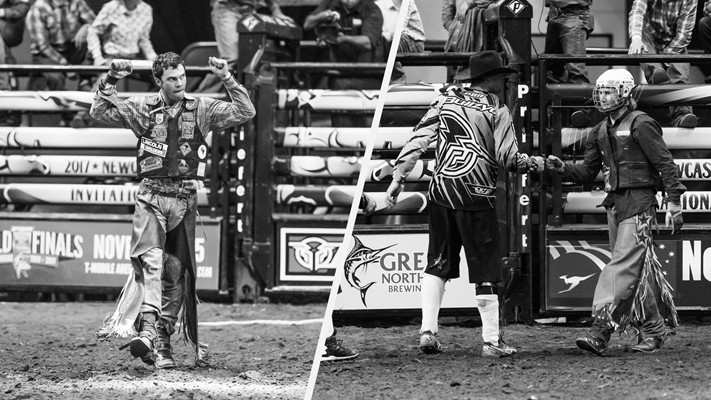 2017 PBRA Rookie champion Aaron Kleier on Chocolate Thunder, Yates Bucking Bulls was the first rider out for the night in front of an enthusiastic crowd at the  Newcastle Invitational.  He showed exactly why he is a force to be reckoned with marking an impressive 85.75. 
2015 Australian champion Fraser Babbington who flew back to Australia from the USA the day before, was equal to the challenge on Flesh and Blood, Maynes Bucking Bulls to split the first round.
Bailey Woodard on Red Man, TNR Bucking Bulls was next with an 83 followed closely by Budd Williamson on Jesse, Hempenstall Bucking Bulls with 82.75 points and Harry Bridges on JP Gills White Ice for 82.50. 
Round two and the Hunter Valley crowd favourite Cliff Richardson took on Kasper's Deceptacon to take the honours with an 86.75. Outlaw (TNR) was no match for Braydon Wellby with the talented young rider marking an 85.5.
The close scores continued with Ethan Watts marking an 84.25 on Bad Attitude (JP Gill); Will Purcell on White Back for 82.5 (Klabe Bucking Bulls) and Jay Borghero scoring a 78.5 on Hells Bells, TNR Bucking Bulls.
The top 10 riders progressed to the championship round and fans were treated to a rank line up. An 88 point ride is impressive in anyone's books and Saturday night there were two – Fraser Babbington did not miss a beat on JP Gills High Flying Akubra for 88.
2016 PBRA Bucking Bull of the Year Sweet Pro's Hillbilly Deluxe is not accustomed to a rider lasting the 8 second whistle mark, but then he has not had Aaron Kleier on his back before - the young cowboy just toughed it out to also score an 88. 
The only other qualified ride in the championship round was Budd Williamson for 83 on Cookies and Cream (Klabe).
Kleier and Babbington split the overall win with a total of 173.75 points ahead of the only other cowboy to make a qualified ride on two bulls Budd Williamson with 166.25.