BRAZILIAN LUCAS DIVINO TAKES OUT TAMWORTH INVITATIONAL PBR
By: PBRAdmin Saturday, November 11, 2017 @ 12:21 AM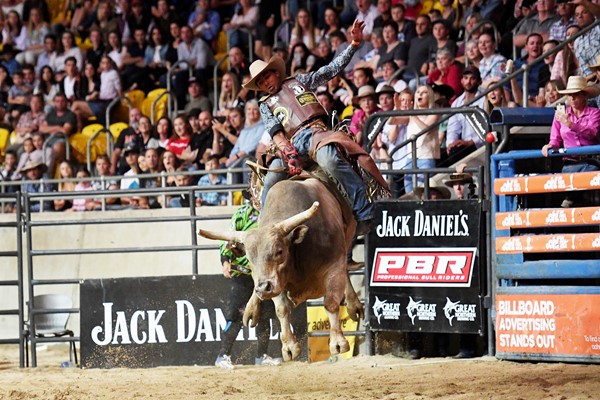 TAMWORTH, NSW – Brazil's Lucas Divino was victorious at the PBR (Professional Bull Riders) Tamworth Invitational Saturday night in AELEC Arena in front of once again a stellar sell-out crowd.
Divino covered Too Funky, Bunn Bucking Bulls in round one for 83.25 points, and then stepped out and rode Stuart Timms' Russian Roulette for 85.75 points in round two.
The Championship Round saw SweetPro's Hillbilly Deluxe, Maynes Bucking Bulls secured Divino the event win with a 90.75 points and riding 3/3.
The Championship Round also saw more high scores with Fraser Babbington turning in an 89.25 score on Acid Rain of Robert Bunn's securing second position.
Brazil's Junior Quaresma solidified the third-place slot. He won round 2 earning 87.5 points and another 87.5 in the championship round on Light Em Up.
Tully's Michael Smith rode JP Gill and Son's Coors Light for 88 points.
SweetPro's Call Me Joe, TNR Bucking Bulls was the highest marked bull of the night with 44.75 points. He displayed to utmost athleticism in the championship round sending Lawson Nobbs home with no final score.
From here the tour heads to the tropical north, where Townsville Queensland welcomes Australia's second Iron Cowboy (17-18 November), where the riders will display two nights of pure athleticism against the biggest and best bucking bulls in the country.
Overall Results
Name, Aggr. Score – Points Earned
Lucas Divino, 259.75 - 630
Fraser Babbington, 175.75 - 360
Junior Quaresma, 175.00 - 320
Rohan Markham, 168.25 - 215
Michael Smith, 88.00 - 115