WILKINSON WINS 2017 PBR AUSTRALIA TITLE
By: Kendyll Currin Saturday, July 22, 2017 @ 11:42 PM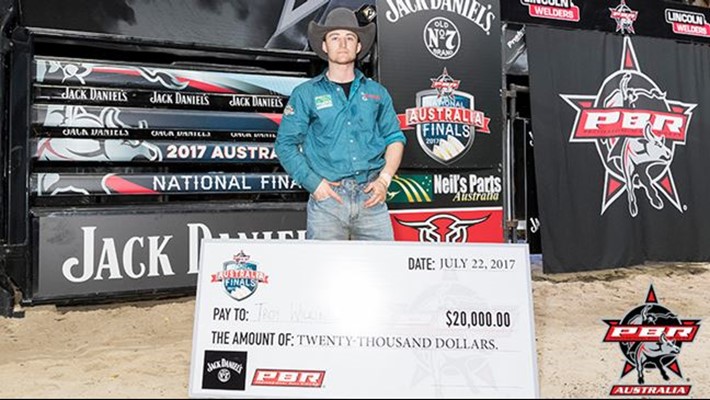 SYDNEY, NSW – In front of a record crowd, Troy Wilkinson gritted through to claim the 2017 PBR Australia Championship Saturday night at Qudos Bank Arena.
Wilkinson went 2-for-3 in Sydney, and despite being bucked off and injured in the championship round, he had secured enough points to win his first ever Australian title.
The cowboy from Upper Horton stood atop the PBR Australia standings with a total of 2174.16 points, squeaking past Aaron Kleier by a mere 50.83 points.
Wilkinson finished in a tie for third in the event and picked up 17.5 world points. He currently sits at No. 29 in the world standings and will return to the United States when the Built Ford Tough Series resumes in Tulsa, Oklahoma, on Aug. 12-13. From there, he will look to qualify for his first ever Built Ford Tough World Finals this November.
As the 2017 PBR Australia Champion, Wilkinson also earned an international invitation to the Real Time Pain Relief Velocity Tour Finals at South Point Arena in Las Vegas Oct. 28-30.
Wilkinson opened his evening with an 83.5-point ride on Cattle Duffer in Round 1. He followed that with a win in Round 2 after an 88.5-point trip aboard Rock the House. In the championship round, Wilkinson selected Ray Ban but was bucked off hard and had to be escorted off the dirt by medical personnel.
Despite not finishing the evening, Wilkinson was able to overtake Kleier in the PBR Australia standings after the rookie went 0-for-2 and picked up no points in Sydney.
Despite the disappointing Finals effort, Kleier was named the 2017 PBR Australia Rookie of the Year after turning in an astounding first season that included three event wins. Kleier's runner up season in Australia also moved him to No. 34 in the world standings.
Nathan Burtenshaw won the 2017 PBR Australia Finals event title after being the only cowboy to go a perfect 3-for-3 Saturday in Sydney, he also finished third overall in the PBR Australia standings. Burtenshaw earned 60 world points for the effort, and moved to No. 46 in the world standings.
Ray Ban (George Hempenstall) was named the bull of the event after turning in the highest bull score of the event.
Round 1:
88.50 – Jorge Valdiviezo
86.25 – Robinson Guedes
86.25 – Budd Williamson
85.00 – Roy Dunn
Round 2:
88.50 – Troy Wilkinson
87.75 – Robinson Guedes
86.75 – Nathan Burtenshaw
85.75 – Budd Williamson
Championship Round:
88.75 – Nathan Burtenshaw
World Points – Rider
60 – Nathan Burtenshaw
30 – Robinson Guedes
17.5 – Troy Wilkinson
17.5 – Budd Williamson
10 – Edmilson Goncalves
5 – Luis Blanco
2016/2017 Year End Australian Standings
2174.16pts – Troy Wilkinson
2123.33pts – Aaron Kleier
2050.83pts – Nathan Burtenshaw
1875.00pts – Braydon Wellby
1700.00pts – Cliff Richardson