SHEPHARD WINS PBR LAST COWBOY STANDING
By: Kendyll Currin Saturday, July 15, 2017 @ 11:32 PM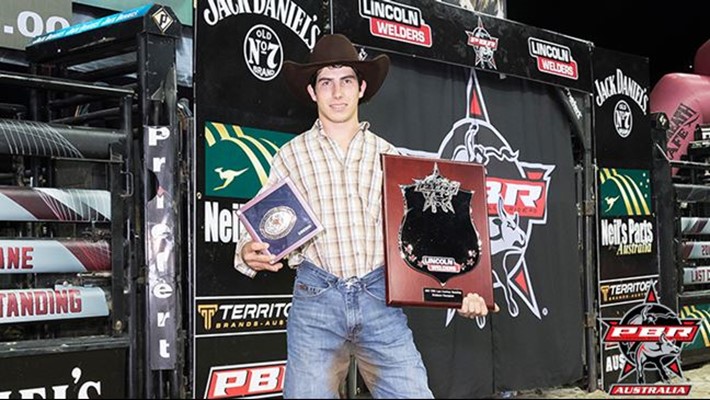 BRISBANE, QLD – Kurt Shephard once again found himself at the top when he claimed the title at PBR Australia's Last Cowboy Standing event Saturday in Brisbane.
It was the second week in a row that Shephard had claimed a title after winning PBR Australia's Cairns Invitational the week before.
Shephard advanced through the first two rounds in Brisbane on buckoff time. In the championship round, Shephard rode Big Bucks for 85.25 points to walk off with the win and his second buckle in as many weeks.
Shephard moved up to No. 36 in the world standings after earning 10 world points for his performance.
Built Ford Tough Series star, and four-time PRCA champion, J.W. Harrisfinished in second place. Harris faced Shephard in the final round of the bracketed event and rode The Hump for 85 points, just one quarter of a point shy of the win.
Harris' 3-for-3 performance, though, gave him the highest aggregate score and helped him earn 80 world points. He currently sits at No. 31 in the world standings.  
Shephard opened the night by taking on fellow Queenslander, Jason Mara. Both were bucked off, but upon further review Shephard managed to stay on longer and advanced to Round 2 based on buckoff time. In Round 2, he faced Sonny Schafferius and once again managed to hang on just a bit longer than his opponent.
Meanwhile, Aaron Kleier finished in second place in the aggregate and eared 50 world points.
Cody Heffernan (No. 41) finished in third place in the aggregate picking up 30 world points while Troy Wilkinson (No. 30) finished in fourth place for 20 points toward the world standings.
Australian rookie Brayden Wellby rounded out the Top 5 aggregate scores and earned 15 points toward the world standings.    
Next weekend, the best cowboys in Australia will head to Sydney's Qudos Bank Arena for the PBR Australia National Finals. Everything will be on the line as Australia's best battle to be crowned the PBR Australia Champion.
The PBR Australia Champion will also earn an international invitation to compete at the Real Time Pain Relief Velocity Tour Finals at Las Vegas' South Point Arena Oct. 28-30. There they can earn a chance to compete at the PBR Built Ford Tough World Finals down The Strip at T-Mobile Arena Nov. 1-5.
PBR Australia Last Cowboy Standing
Brisbane, Australia
Bracket winner – Kurt Shephard
Aggregate Results
PBR Aus. Pts  World Pts  Rider
545                  80             J.W. Harris
350                  50             Aaron Kleier
295                  30             Cody Heffernan
205                  20             Troy Wilkinson
95                    15             Braydon Wellby
145                  10              Kurt Shephard