SHEPHARD WINS CAIRNS INVITATIONAL
By: Mandy Magro Saturday, July 8, 2017 @ 11:32 PM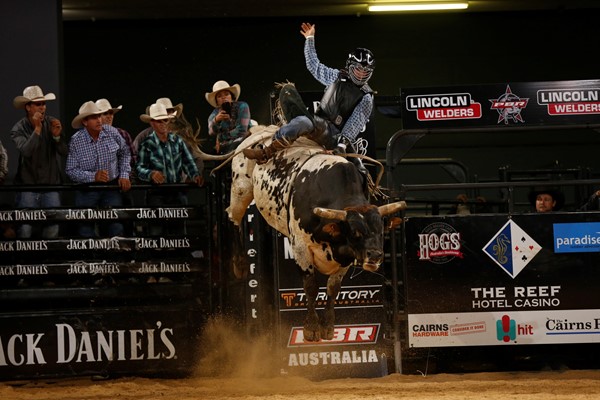 CAIRNS, AUSTRALIA – Adrenaline dripped from the railings and the roar of the crowd virtually lifted the roof off the Cairns Convention Centre as Kurt Shephard went 2-for-3 to win the PBR Australia Cairns Invitational this weekend.
The No. 36 rider in the PBR world standings began the event with 83.5 points on Spartan and then came up with 82.75 points aboard Gangnam Style in Round 2 for an aggregate score total of 166.25 points.
Rounding out the Top 5 was Aaron Kleier (2-for-3, 166 points), Robson Guedes (2-for-3, 165.5 points), Budd Williamson (2-for-3, 164.25 points) and Bailey Woodard.
There were no rides in the championship round as Shephard, Kleier, Guedes, Williamson and Woodard all bucked off.
With none of the eight riders making the 8 seconds, Shephard showed his home crowd exactly how it was done walking out of the arena with the event championship.
Next up on the PBR Australia calendar will be the annual PBR Australia Last Cowboy Standing event at Brisbane Entertainment Centre on July 15. Tickets are available from TICKETEK.COM.AU or PBRAUSTRALIA.COM.AU.
Results
1. Kurt Shephard
2. Aaron Kleier
3. Robson Guedes
4. Budd Williamson
5. Bailey Woodard
6. Sonny Schafferius
7. Nathan Burtenshaw
8. Ethan Watts