KLEIER MAINTAINS LEAD
By: Dianne Hallam Monday, July 17, 2017 @ 2:01 PM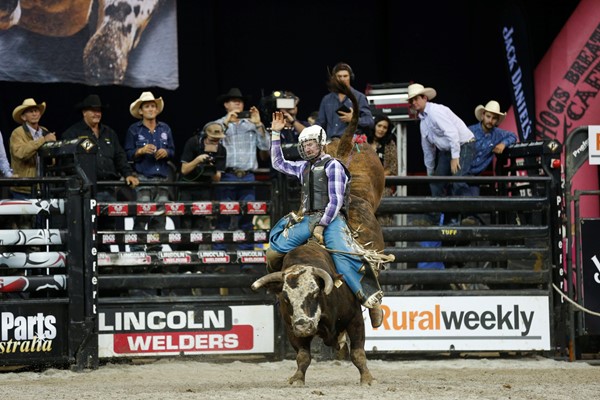 Aaron Kleier continues his quiet charge towards the coveted PBR Australian title following another successful weekend in Brisbane for Last Cowboy Standing.
He may not have won the event but his consistency is paying big dividends. Aaron placed second in round 1 on Dunne's 5th Battalion for 86 points, just one quarter of a point behind reigning champ Cody Heffernan on Timm's Popping Candy.
Round 2 he marked an 83 aboard King's Whats Up for 83 points just ahead was Brazilian Robinson Guedes 83.25 on King's Houso and world ranked number 30, Troy Wilkinson who rode Dunnes Special Forces for 85.50.
Biddle's Storm Boy brought Kleier undone in the Championship Round, however, his work in the first two rounds earnt him 350 points towards the Australian standings.
He increased his lead slightly on the weekend but the race is far from over – In total 2000 points are up for the taking this Saturday night at Qudos Bank Arena in Sydney – After 12 months of competition it all comes down to one last night before the 2017 PBRA  champion will be decided.
Tickets are still available so click onto pbraustralia.com.au and book now to avoid missing out.