PBR Rockhampton September Invitational Post Event Game Notes
By: Sean Walsh Tuesday, September 26, 2023 @ 2:01 PM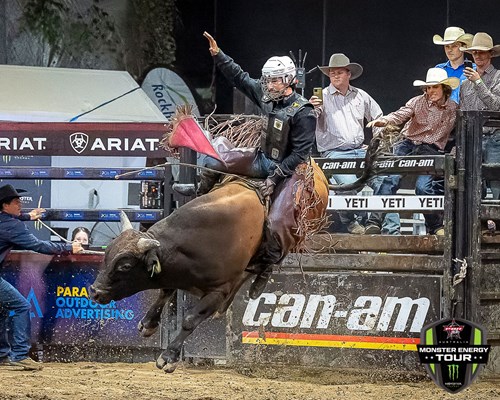 ROUND 1 
The second instalment of the PBR Australia Monster Energy Tour Rockhampton Invitational for 2023 got underway Friday evening at the Great Western Hotel with seventeen riders across two days and three rounds of Professional Bull Riders action at the undisputed home of bull riding in Australia, The Great Western Hotel.

Local fan favourite and six time Rockhampton PBR event winner Aaron Kleier was the first rider to gain a score during Round 1, taking All In (Dunne Bulls) the allotted time for 78 points in what was a practice bull for a rider of Kleier's quality. 
Lane Mellers was able to grab a qualified ride for the second straight PBR Australia event, covering Crime Wave (Dunne Bulls) into his hand and pick up an 82.5-point marker from the judges and starting his hometown event with a bang. 

Bang and Grind (Fred Kleier) was covered in Round 1 by Zane Hall, who was able to get the bovine to the whistle for a 79.5-point tally and make it only the sixth time the bovine has been ridden in thirty trips. 
Current Australian No 2 Sam Woodall was able to book a date with the eight during his first out in Rockhampton since sustaining a nasty elbow injury at the same venue in May, with Brindle Thing (Fred Kleier) turning clockwise into Woodall's hand for 83.5 points. 
Jackson Gray was also able to find the whistle during his Round 1 effort, giving Paintbox (Tory Keliher) it's second career black mark and earning himself 83.5 points and the round 1 aggregate.
Mini Deluxe (Peter Wallace) extended his buckoff streak to 9 after he showed plenty of power spinning left out of the gate away from the righty Darryl McPherson, bucking off the Kiwi cowboy in 2.04 seconds and earning a round high 42.5-point bull score for the impressive out. 


Full Event Results: Rockhampton September



Round 2
With their being two rounds on Friday night and the opportunity for some riders to put a disappointing round 1 buckoff in the review, that was exactly Rockhampton boy Caiden Sandilands was able to do when he knocked down End Game (Dunne Bulls) who came out looking right for a few jumps and then settling around the the left into the southpaw's hand for a then event high 85.5 points. 

Macaulie Leather was able to break into the bovine dominance of Round 2 after 9 straight buck off between Sandilands and Leather's eight second trips, matching Footloose (Fred Kleier) jump for jump to earn 84.5 points and nab his first score of the event.
Sam Woodall was on a receiving end of a great anticlockwise trip from Rockability Rebel (Fred Kleier) with the right hander unable to match the power away from his hand, bucking off in 3.40 seconds and giving the bovine a round high 43 points in the bull tally. 
Round 1 winner Jackson Gray went 2-2 on Friday evening picking up another score during Round 2, this time an 85.5-point mark with Ariat's West Point (Dunne Bulls) coming out faking right and then turning back towards the left allowing the Barcaldine cowboy to go to work and collecting every point possible from the trip. 
When it comes to covering bulls at the Great Western Hotel, Aaron Kleier does it more often then not and that trend continued into Round 2, with the four time Australian champion earning himself the night one aggregate after a monster effort of 87-points on Ranga after the replay judge gave it the all clear on a close buckoff call that was originally marked at 7.95 seconds. 
After Party (MJ/Keliher Bucking Bulls) made sure Kurt Shephard remained without a score on Friday, settling around to the left on the third jump and dislodging the Ariat cowboy in 5.03 seconds and was adjudicated at a 43-point mark for it's efforts.  


Extended Highlights: Rockhampton September
Round 3: 

With the animal athletes out for domination during Round 3, the first ten cowboy to nod their head during Saturday night's ended in misery for the bull riders, it was Lane Mellers gaining the first score of Saturday night with 79.5 points and his second score of the weekend to secure his 3rd trip to the pay window in the 2023 season. The Queenslander finished the event with a fourth placed finish (2/3 165pts) and 82.5 PBRA points. 

Jackson Gray and Sam Woodall were both in striking distance of the event title but were both beaten by their bulls in Round 3, with Woodall bucking off Seven Eleven (Peter Wallace) in 3.26 Seconds and Gray, who went agonisingly short the event win by .10 of a second, bucking off Chewcudda (Peter Wallace) with both bovines collecting 43 point scores. 

Macaulie Leather was able to pick up his sixth event win of the 2023 PBR Australia season and further solidify his position on top of the PBR Australia rankings, taking Superlicious to the promised land to pick up 85.5 points and beat out 2nd placed Jackson Gray by one point (2/3 170 pts) as well as 57 crucial PBRA season points to extend his lead at the top to 144.34 points.