By The Numbers: 2023 Rockhampton September Invitational
By: Sean Walsh Thursday, September 21, 2023 @ 8:51 AM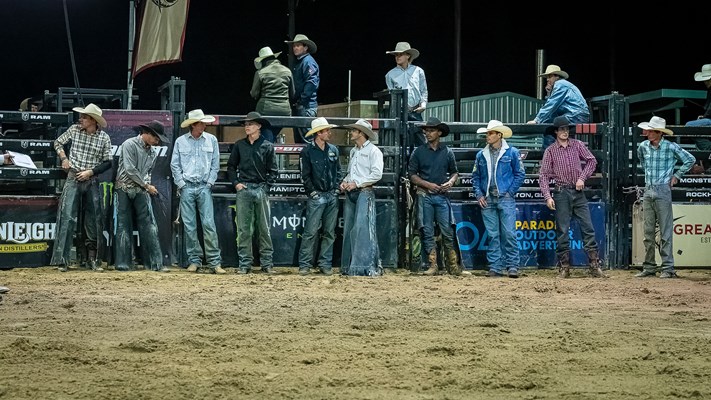 The 2023 PBR Australia Monster Energy Tour season is getting towards the pointy end with the run towards the Grand Final well and truely away as we return to the Bull Riding mecca of Rockhampton for the second time in 2023. 

The Great Western Hotel provides a fantastic atmosphere for two nights of Professional Bull Riders action, with 17 cowboys battling it out to gain the elusive Rockhampton Invitational buckle. 

PBRAustralia's Sean Walsh breaks down some of the matchups and numbers you need to know ahead of this weekend's action in the beef capital. 
Matchups To Watch
Round 1


Jackson Gray vs Paintbox (Dunne Bulls) 
This shapes up to be a fantastic battle in Round 1, with local Barcaldine native Jackson Gray looking to crack into the top 5 of the national standings and a bull that will be looking to make it's mark on the PBRA scene. 

Gray had a really nice weekend in Caboolture a fortnight ago, covering Smarty (BK Bucking Bulls) for 81.5 points on a trip where the bull looked right out of the chutes and then turned into the cowboys hand, as well as falling agonisingly short of covering a second bull of the weekend bucking off in 7.44 seconds during Round 2. 

Paintbox has had four trips to date on the PBR circuit, having been covered once by Macaulie Leather in Origin II this year for an 83.5-point marker. The bovine has shown a consistency to turn to the left into his trip and will be a nice chance for the southpaw Gray to get his hometown event started on the right note. 


Kurt Shephard vs Chewcudda (Peter Wallace)

Familiarity is a gold commodity in the sport of Bull Riding and these two not only have matched up against each other previously, it was at this weekend's venue in May early on in 2023. 
PBR veteran Shephard has had a slight wobble the past two events, bucking off all three of his rides at Quirindi and Maitland and dropping from fourth to fifth on the national standings. 

The cowboy was able get the better of the battle in May, taking Chewcudda away from his hand after it came out looking left and settled into a clockwise route for an 84-point marker for Kurt. 

That ride was the last time the bovine was taken the allotted eight seconds and is currently sitting on a three buckoff streak, with the ability for Chewcudda to go either way paired with a tough jerky action that the bull possesses, it will be a big score if Shephard is able to repeat history and find the whistle. 


Darryl McPherson vs Mini Deluxe (Peter Wallace)
This Peter Wallace bovine is one of the best up and coming bulls on the PBR Australia circuit and has been really impressive after making it's PBR Australia debut earlier this season up in Winton. 

The bovine is currently 8-0 in it's PBR Career and boasts a 42.12 Bull Score average, having two scores above the 43-point bull score line and never taken past 6.3 seconds. 

The Kiwi native McPherson will be looking to add to his one career PBR qualified ride and will have his work cut out with Mini Deluxe usually going left sharply out of the chutes and turning anti-clockwise, which will be away from the righty's hand. 

Round 2

Kelsey Pavlou vs Code Blue (Fred Kleier) 
This will be the third time these two have matched up with the bovine currently holding a 2-0 advantage, bucking Pavlou off in 3.88 seconds during the 2022 Mackay Invitational and a 7.89 second battle in Bundaberg 2020. 

Code Blue was covered by fellow right hander Bruno Roberto earlier in the year at Rockhampton, in a trip where the bovine took a few jumps away from the chutes into the arena and then turned away from the hand of the Brazilian. 
If Pavlou can match it with the bovine and take a fantastic bull away from his hand, it will set up the Victorian for a big weekend as he looks to enter the top 10 in the national standings. 

Aaron Kleier vs Ranga (MJ / Keliher Bucking Bulls)
It would be an absolute blasphemy to not mention Mr Great Western Hotel himself Aaron Kleier, with the four-time Australian champion owning 6 Rockhampton event buckles across his career and will be looking to add to that this weekend in his hometown event. 

Kleier has drawn Ranga from MJ / Keliher Bucking Bulls, who's a bull thats been on the PBR Australia tour for many years now and will be an looking to go 2-0 against the Clermont cowboy after the getting the better of Kleier in 2.10 seconds in Kilkivan last year. 

Ranga is known to be a nasty bull with plenty of kick and big airtime, but does tend to go anti-clockwise around into the hand of left handed riders, which sets us a great battle between two PBR Australia heavyweights. 

Lane Mellers vs Close Combat (Dunne Bulls) 
Another local cowboy who knows the chutes at The Great Western like the back of his hand, Lane Mellers will feature in Round 2 action on Friday night against a fantastic young bovine athlete Close Combat from Dunne Bulls. 

Mellers has recently returned from Canada riding in the PBR Canada series and will be hoping to get the better of Close Combat who's only black mark so far coming against Aaron Kleier in Rockhampton back in May this year for 82 points. 

The bovine got the better of Mellers in Winton earlier this season away from his hand in 2.65 seconds and with Close Combat favouring that around to the left trip, Mellers will be looking at a nice score if he is able to find the whistle and keep pushing up the standings.



See Daysheet Here
Numbers to Know
6- Round 1 action on Friday night will feature 6 bulls from the Dunne Bulls deck who will be making their PBR Australia debuts- (Uppercut, Punch line, All In, Smoke Screen, Crime Wave and Dark Days)
172.50- Current Australian No 1 ranked rider Macaulie Leather got the win in May with a 2/3 172.50 aggregate effort after collecting 85.5 points in Round 2 on Mini and 87 points on the then unridden Feldt Jacket. Look for Leather to push the 250 + pt event aggregate this weekend, with the potential to get on three bulls this weekend during the three rounds of action.
9- Seven Eleven from Peter Wallace is currently sitting on a 9 out buckoff streak and will look to make that double figures against Lijah Leather in Round 1 on Friday night. The last time the bull was covered was by Braith Nock in Cairns during the 2022 season. 


Follow @PBRAustralia on Facebook and Instagram to keep up to date with all the action from Rockhampton and tune into the exclusive livestream of the event HERE.