Fielder Returns to U.S. to lead Team Australia, Make World Finals Push
By: Justin Felisko Monday, February 28, 2022 @ 2:56 PM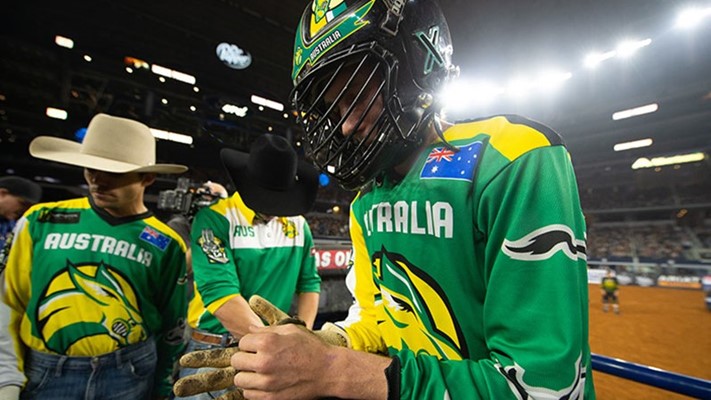 PUEBLO, Colo. – When Brady Fielder packed his bags in March 2020, he could have never imagined that he would not return to the United States for almost two years.
At the time, the COVID-19 pandemic was beginning to unravel, and Fielder and fellow Australian Aaron Kleier decided to return to Australia to be with their families and help out at home.
It was a decision that ultimately led to Fielder remaining in Australia until this past weekend when he returned to the Unleash The Beast for the first time since the COVID-19 pandemic began.
In his American season debut, the No. 1-ranked rider in PBR Australia wound up going 0-for-2 at the PBR Bad Boy Mowers Mowdown in Little Rock, Arkansas.
"We didn't know what was happening at the time," Fielder recalled of the initial months of the pandemic. "It was a bit tough. We were down there for a while. It has all started to slowly open up again. I always had been thinking about coming back for a while, but it was so hard with COVID and the restrictions in place."
Fielder expects to remain in the United States for at least three months and pursue his second World Finals qualification. He will then have to see the status of his visa before he decides on declaring for the PBR Team Series draft this coming May.
The 22-year-old will be looked upon to lead Team Australia at the upcoming PBR Global Cup USA, presented by Monster Energy, on Saturday night at AT&T Stadium in Arlington, Texas. The Global Cup airs on CBS Sports Network on Sunday at 6 p.m. ET.
"It is what I wanted to do," Fielder said about returning to the U.S. "I wanted to come over for the Global Cup, and I want to give a crack at this again. I am going to stay for a few months and, depending on how things go, I will stay. That would be awesome to make the Finals. That's the goal."
Team Australia nearly shocked the world at the last Global Cup in Arlington (2020) when the men from the Land Down Under finished a mere 9.25 points shy of defeating the Team USA Eagles.
It was the second heartbreaking loss for Australia in the past three Global Cups. In 2018, Team Australia finished 0.75 points short of upsetting Team Brazil at the Sydney Global Cup.
"The one in Arlington we were really proud of ourselves and what we did, but yeah, still tough to be that close," Fielder said.
Team Australia will look much different than the team that nearly unseated the Americans two years ago.
Normal head coach Troy Dunn will not be able to make the trip to the U.S., so he has appointed four-time Australian Professional Rodeo Champion Eddie Fisher to lead the team on American soil.
Fisher was a professional competitor for more than 20 years, competing as both a bareback rider and bull rider. In addition to competing on the premier series in the late 1990s, Fisher also holds an all-around and bull riding championship in Canada.
Previous team captain Cliff Richardson is retired. Normal veteran standouts Lachlan Richardson, Nathan Burtenshaw, and reigning four-time PBR Australia champion Aaron Kleier are not competing for Team Australia either.
Instead, Team Australia will feature three returning riders in Fielder, two-time NFR qualifier Ky Hamilton and 2016 PBR Australia champion Cody Heffernan (if Heffernan is able to get his visa approved in time). Callum Miller and Sam Woodall, if he is cleared by Dr. Tandy Freeman this week, will be wearing the green and yellow Australian jerseys for the first time in their respective careers.
"We have as good of a chance there is," Fielder said. "I don't think it will be that hard (replacing the other riders) as long as we take it all upon ourselves and rise to the challenge. We can get the job done. Each one of us knows our worth. We just have to go out and do our job."
Fisher said the past success for Team Australia should help this year's squad have extra confidence. He believes the current roster can build on the foundation set by the previous teams.
"That is for sure," Fisher said during an upcoming Global Cup show that will be airing on RidePass on Pluto TV. "That takes a lot of pressure off these guys to see they can achieve it. That is the hardest thing when you come here. We are all brought up in a different environment over there compared to here. They come into this situation, these circumstances, there is a lot of pressure, and they really try a little too hard to excel instead of going out there and riding a bull. Now that they have been so close, the guys will let it happen.
"I say we have a good chance. We have some great riders."