Richardson Ready for 2021 to Start in Rockhampton
By: Kacie Albert Wednesday, May 5, 2021 @ 11:29 AM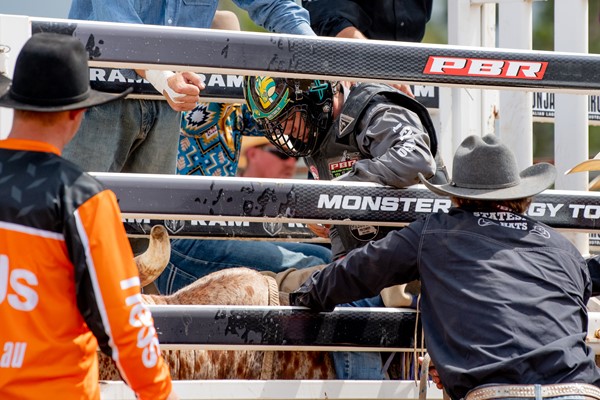 In 2020, fans and viewers around the globe were treated to one of the most fiercely contested PBR Australia Championship battles in league history as Aaron Kleier and Lachlan Richardson feverishly duke it out atop the standings.
However, as electric as the showdown was between the two titans of the sport, the race concluded in an anticlimactic note, as Richardson had his season end in heart-breaking fashion.
Marking his second consecutive appearance at the PBR Australia Grand Finals, Richardson began the season-culminating event ranked No. 2 in the nation, a slim 56 points behind Kleier.
RELATED: Richardson Eager to Conclude 2020 with Career First Australian Title
After leading the national title race for the majority of the season, Richardson was surpassed by Kleier at the final regular-season event of the year when the Clermont-native earned the victory in Airlie Beach.
Kleier's lead, however, was short-lived.
Undeterred by the ground he had to make up, Richardson was nothing short of electric on the first day of the PBR Australia Grand Finals. Going a flawless 2-for-2, he decimated Kleier's lead to 29 points.
RELATED: Lachlan Richardson Dominates Opening Rounds of 2020 PBR Australia Grand Finals to Hone in On Career-First National Championship
Snapping a streak of five consecutive buckoffs, seven-time PBR World Finals Qualifier Richardson began the event on a high note when he went the distance aboard Annihilation for 84.75 points during Round 1 inside the Townsville Entertainment Centre.
On the heels of his runner-up finish in Round 1, Richardson then dominated Round 2, recording the high-marked ride of the night by covering Cattle King Boogers Beach for 87.75 points.
The 28-year-old's perfect performance, which propelled him to the top of the event aggregate for the PBR Australia Grand Finals, earned him a crucial 35 national points and brought the Townsville crowd to its feet.
However, then the injury bug struck.
"I went good the first day and I was leading the event," Richardson said as he recalled the 2020 PBR Australia Grand Finals. "And then at about 10 o'clock the next day I got a big hematoma on my back, I could barely walk or move."
"I went and got x-rays and CT scans and that, and they all came up clean. There were no breaks or fractures, so I figured I'd still get on. But come the nighttime I could barely move at all, so I had to turn out and pretty much just watch Aaron take it away from me."
With his season coming to an abrupt halt, Richardson, who also faced a long recovery, finished the year ranked No. 2 in the nation, 58 points behind Kleier has he rode to his third PBR Australia Championship.
"The people at the emergency room had never seen one that bad," Richardson said further of the hematoma which ended his season. "I never seen it or had it, but it wasn't good. But it could have been worse, I guess. There were no breaks or anything else. So it is what it is."
"I've been pretty much the whole time just recovering," Richardson added of how he's been spending his time since the November Grand Finals. "It's nearly 100% anyway. It's still a little bit of pain every now and again, but that's probably how it's going to be."
"The lump has gone down, it took a fare while for it to come down, but it's finally down and feeling a lot better anyway."
"Probably a good time that it was the off season so I could heal up and get back all good for the new year. It all happens for a reason. Everything is good."
On April 2 Richardson climbed aboard his first practice bull since sustaining the injury and is ready for the season to get underway on May 7 in Rockhampton, Queensland.
RELATED: PBR Australia's Elite Monster Energy Tour Returns to Rockhampton in 2021 with Six Fan-Attended Events
"I think I will do a couple of rodeos before then," Richardson said of his preparation plans ahead of the Rockhampton Invitational. "Get on a half a dozen before I go anywhere. So that's the plan."
And after having his career-first PBR Australia Championship narrowly slip through his fingers in 2020, Richardson is determined to earn the coveted buckle in 2021.
"I don't go anywhere without trying to win," Richardson said. "I definitely want to win what I thought I had last year. I just have to keep my foot down, and I guess try a little harder. Hopefully have a healthy year, work harder than I did last year, and I think it will all work out."
"Just ready for it to start."
In the break from competition, Richardson had cause to celebrate, welcoming daughter Laska Jane Richardson with his wife Georgia on March 15.
"It's great being a father," Richardson said. "Still only early days, but the baby is healthy and mum is all good. So it's all good. It changes my priorities because I have a child, but I am still as much as ever into riding bulls, and if anything it just motivates me more."
The 2021 PBR Australia season begins on May 7-8 in Rockhampton, Queensland, at the Great Western Hotel.
The bull riding action for each iteration of the Rockhampton Invitational begins at 7:00 p.m. AEST. At each event, all riders will attempt one bull each in Round 1. The Top 8 will then advance to the championship round for one more out and a chance at the event title. In addition to competing for points towards the Australian national standings, riders will also vie for crucial points towards the World Finals.
Tickets are on sale now and can be purchased at www.tix.pbraustralia.com.au.